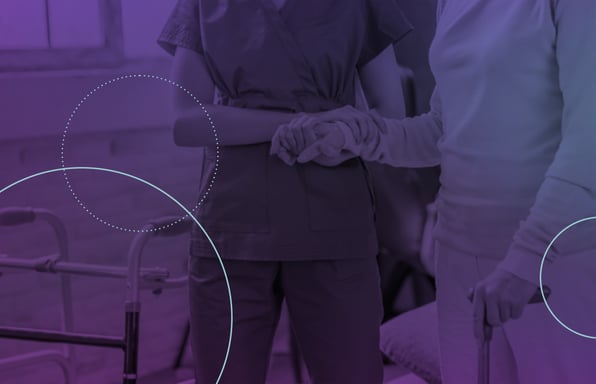 Providing the best possible hospice care is every organization's ultimate goal at the end of the day. Patients who enter hospices need help maintaining or even sustaining a higher quality of life they can't attain independently.
Many of these patients require support from medical providers and specific medical equipment that aids a disability or ailment they're currently managing. This medical equipment is specifically referred to as Durable Medical Equipment, or DME, due to its intended use in helping the patient.
Ensuring your hospice's DME operations are streamlined and fully operating at their maximum potential is critical for successful patient care. Often throughout hospice care, the patient may require different DME or recurring orders that medical providers need to order.
Getting the right equipment to the right patient promptly is one of the most significant contributing factors in providing quality care.
Defining DME
The hospice industry uses various medical equipment to boost living conditions and comfort throughout a patient's care. However, not all medical equipment is made the same, and durable medical equipment has specific uses for hospice patients.
DME Classification
It must meet specific criteria based on the intended use to be classified as durable medical equipment. This helps the healthcare industry break down different medical equipment needs and determine insurance coverage.
Typically these Durable Medical Equipment classifications are:
They can withstand repeated use since patients rely on them to be used daily, if not around the clock.
Patients must use the DME strictly for medical purposes.
The DME must be used in the patient's home or living space.
Generally have a life expectancy of at least three years.
DME vs. Adaptive Equipment
People often mix up their understanding between durable medical equipment and adaptive equipment. These lines are often blurred because the intended use of the two different types of equipment helps patients in similar ways.
DME and adaptive equipment help patients achieve an easier way of life, but the most significant difference is medical use. Adaptive equipment does assist patients with daily living activities, but it isn't directly for medical purposes like DME.
Common Adaptive Equipment
Dressing Stick
Elastic shoestring
Leg straps
Button hooks
Sock aids
Handheld shower
Thermometer
Plate guard
Long straw
Hearing aids
Commodes
Grab bars
Canes
Scooters
Importance of Finding the Right DME
Being a hospice provider often comes with a long list of job responsibilities requiring workers to perform in stressful situations. Typically, patients going into hospice aren't in the best circumstances, making daily life understandably tense.
One of the best steps a hospice can take to provide excellent patient care is ensuring its operations run smoothly. Always seeking to improve these operations will result in fewer complications and hassles for teams to problem solve in addition to everyday responsibility.
Finding the right DME for your patients is critical since many individuals rely on medical equipment for support. Hospices need easy access to track and order DME in one location to avoid scattered information and disorganization. Additionally, having different options for vendors available will open many useful doors for teams in the field.
Most Common DME
There are thousands of different durable medical equipment available for hospices to use. Not all medical equipment is considered a DME, only those intended to be used at home and repeatedly for medical purposes.
Here is a quick list of the most common durable medical equipment used in hospices.
Arm, Leg, Back, and Neck Braces
B-Pap Machines
C-Pap Machines
Commodes
Crutches
Hospital Beds
Infusion Pumps
Nebulizers
Pressure-reducing bedding
Patient lifts
Oxygen Equipment and Accessories
Suction Pumps
Traction Equipment
Ventilators
Wheelchairs
Walkers
Get Awesome Content Delivered Straight to Your Inbox!
Posts by topic