Top 10 most used Durable Medical Equipment in 2021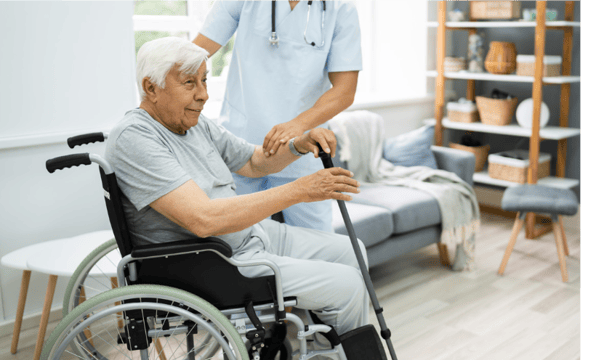 The healthcare industry is full of different equipment to serve one primary purpose: to help people! Medical equipment helps doctors diagnose patients and provides other healthcare workers with the means to care for their patients.
Given so many options available, the medical industry classifies different equipment primarily based on its use, among other reasons. Durable medical equipment, or DME, is one classification of medical equipment primarily intended for hospice patients.
What is Durable Medical Equipment?
Despite primarily being used by hospice patients, it is not uncommon to find durable medical equipment in hospital settings. Many people rely on durable medical equipment to assist daily activities they otherwise would struggle to do independently.
According to medicare.gov, there are specific criteria that the equipment must fit to be considered durable medical equipment.
The equipment must be able to be repeatedly used or durable.
It has to be used for medical purposes.
The patient must be sick or injured to be considered durable medical equipment.
It is primarily used in your home or when you're discharged from your medical provider's care.
Finally, it has to last at least 3 years before needing to be replaced.
This equipment plays a vital role in our healthcare system by enabling people the opportunity to live a higher quality of life without the need for medical staff constantly. Durable medical equipment is also essential for healthcare providers because it allows patients to continue monitoring their health without direct supervision.
Here are the top ten most used durable medical equipment in 2022!
1. Wheelchair
Everyone is bound to be familiar with a wheelchair! They are designed to provide a means of mobility for patients who cannot walk on their own due to injury or illness. Wheelchairs are immensely valuable for many people because they don't slow people who use them compared to walking.
Additionally, advancements in wheelchair capability include many features for patients with different needs. Typically there are pockets, poles, and other attachments and storage for additional medical equipment or devices should a patient require more than one at all times. Wheelchairs come in manual or electric depending on how long a patient is expected to use one, if not indefinitely.
2. Walkers
Just like wheelchairs, many patients rely on walkers to move around in their daily lives. However, unlike wheelchairs, patients who use walkers can still walk independently, requiring extra help.
Walkers provide extra support for balance and mobility than other equipment like canes and crutches. A walker is great for patients who need to walk long distances or be on their feet for extended periods.
3. Hospital Beds
Hospital beds are easily one of the most used pieces of durable medical equipment. Many hospice patients need the amenities that come with a hospital bed but don't require hospitalization.
Being classified as durable medical equipment allows patients to get hospital beds delivered to their homes. Giving hospice patients access to a hospital bed at home provides them with what they need to be comfortable in their daily lives due to injuries or illnesses.
Additionally, at-home hospital beds save many resources for hospitals by saving the rooms and beds in the facility for patients with more immediate, critical needs.
4. Oxygen Equipment
Many hospice patients suffer from some form of respiratory disease that requires the need for additional oxygen support around the clock. Oxygen equipment, like portable oxygen concentrators, provides the patient with constant, filtered oxygen when they are unable to breathe properly on their own.
Access to oxygen equipment is critical for many patients, which is why it is considered durable medical equipment. Without this classification, patients would overwhelm hospitals and wholly consume oxygen supply, removing oxygen equipment from other patients in more critical states.
Additionally, oxygen equipment offers hospice patients the ability to get the care they need in their own homes, ultimately providing more comfort.
5. Nebulizers
Nebulizers play a critical role in administering medicine for patients with respiratory ailments. Many patients with respiratory diseases, like COPD, require proper medication therapy to help manage their condition.
Nebulizers turn liquid medicine into a mist for the patient to inhale through a mouthpiece or mask. This therapy allows the medication to get deep into the lungs where needed.
The classification of durable medical equipment allows patients to take nebulizers home, perform breathing treatments independently, and still be covered by insurance. Patients who can self-administer breathing treatments with their nebulizer will be able to sustain life on their own without constant medical supervision.
6. Blood Sugar Monitors & Test Kits
37.3 million Americans have diabetes, and 28.7 million are known cases! Among all the known patients, 26.4 million of those individuals are over 65 years of age.
Blood sugar equipment is one of the most widely used durable medical equipment in hospice because 26.4 million known cases are 65 years or older. Keeping a close watch on a patient's blood sugar is an all-day affair that is critical for sustaining life.
7. CPAP
CPAP, or Continuous Positive Air Pressure, are machines that keep air pressure at a specified pressure that helps keep airways open. Specifically, they are designed for patients with a more challenging time breathing while sleeping.
CPAP machines need to be labeled as durable medical equipment so that insurance providers can cover them and patients can easily access them. Hospice patients make up a large percentage of people who require a CPAP machine to sleep every night.
These machines are essential pieces of daily equipment that patients require daily to remain healthy.
8. Commodes
Hospice patients and people over 65 are by far the majority users of commodes. Patients use their commodes throughout the day and night caused of their medical conditions.
Medical commodes are undoubtedly essential to a patient's everyday life, which is why they are considered durable medical equipment. Specifically, the patients who receive continuous home care don't always have someone available to assist them.
9. Pressure Reducing Support Surfaces
Hospice patients spend a lot of time lying or sitting down throughout the day and night. Typically, their medical conditions cause them to lack energy or need to rest for more extended periods.
Patients that remain stagnant on one surface for too long are at risk of developing pressure sores and causing more pain to patients. Many medical providers prescribe pressure-reducing support surfaces to their patients to relieve this pain, which is classified as durable medical equipment.
This durable medical equipment is expected to be used daily by the patient and is designed to last for prolonged periods. Pressure-reducing support surfaces are typically in the forms of beds, mattresses, mattress toppers, or chair cushions.
10. Braces
There are many different types of braces used for a variety of reasons, most cases for orthopedic purposes. Often, hospice patients experience injuries or ailments affecting their muscle tissue and joint strength.
Braces strengthen these weakened areas allowing the patient to use the body parts and assist with recovery and everyday mobility. Typically, medical providers prescribe braces and expect patients to use them daily.
Hospices frequently use braces since many patients experience old injuries or have other medical conditions.
Why Durable Medical Equipment is Important
Hospice durable medical equipment is essential in a patient's care plan. Many patients who go into hospice care normally have pre-existing medical conditions or injuries requiring professional care.
Patients rely on their durable medical equipment to maintain normalcy in their lives despite having specific health issues that stand in the way. Without their DMEs, hospices would not be able to provide necessary care for their patients to sustain or support life.
Tracking Your Durable Medical Equipment with Qualis
One of the most important tasks your hospice care organization does is track and order incoming and outgoing DME orders. This responsibility, however, is also one of the most difficult to manage due to the dynamic environment of hospice care. The laundry list of other tasks that need to be performed in a day takes up even more energy and resources.
Qualis is your one-stop solution for all things DME management. With Qualis, you will:
Have all your hospice care's DME orders in one place, organized to your specific business and workflows.
Have access to our list of over 900+ DME providers spread across 2,800 locations to save money and increase DME accessibility.
Manage one invoice for all your orders every month instead of tracking down several and waiting for bills to post.
Pull reports instantly to track different metrics about your hospice's DME orders.
Be supported by Qualis's experienced clinical and healthcare operations team.
Hospice care is a non-stop environment requiring your team to be highly organized and always ready. Integrating a critical DME management software will free up more time for your team to focus on more pressing matters.
References:
"Durable Medical Equipment (DME) Coverage ." Durable Medical Equipment Coverage, Medicare.gov, https://www.medicare.gov/coverage/durable-medical-equipment-dme-coverage.
"National Diabetes Statistics Report." Centers for Disease Control and Prevention, Centers for Disease Control and Prevention, 18 Jan. 2022, https://www.cdc.gov/diabetes/data/statistics-report/index.html.
Get Awesome Content Delivered Straight to Your Inbox!
Posts by topic