Navigating Hospice DME: Challenges and Solutions for Optimal Patient Care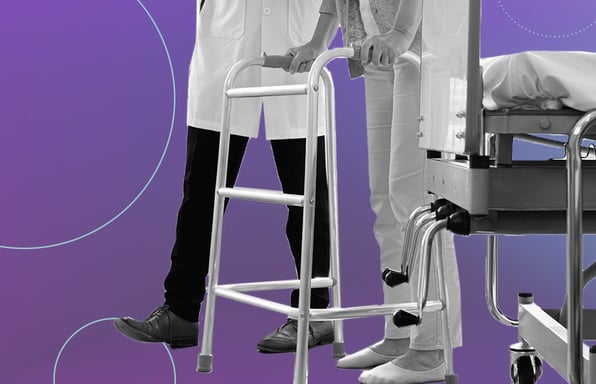 Providing quality care is the ultimate goal of every hospice organization. The global hospice market is expected to grow by almost $90 billion from last year to 2027, which means sourcing the right equipment is as essential as ever.
Patients entering hospice care require assistance in maintaining or improving their quality of life, which no one can do alone. Hospice patients need support from medical providers and durable medical equipment (DME), which aids in managing current ailments or disabilities.
Let's examine what defines hospice DME and consider common challenges around DME solutions for optimal patient care.
What Is Hospice DME?
Hospice durable medical equipment (DME) refers to specific medical equipment and supplies used to support the comfort and care of hospice patients with life-limiting conditions or illnesses. It helps patients manage their needs and must meet specific criteria based on the intended use — strictly for medical purposes.
Since patients rely on their hospice DME daily (if not around the clock), the equipment must withstand repeated use and have a life expectancy of at least three years. Hospice DME helps patients manage their symptoms and maintain comfort and dignity throughout the end-of-life care process.
Durable Medical Equipment vs. Adaptive Equipment
DME helps healthcare professionals determine insurance coverage and break down different medical equipment needs.
The most common classifications for durable medical equipment include the following:
Arm, leg, back, and neck braces
B-Pap and C-Pap machines
Commodes
Crutches
Hospital beds
Infusion pumps
Nebulizers
Pressure-reducing bedding
Patient lifts
Oxygen equipment and accessories
Suction pumps
Traction equipment
Ventilators
Wheelchairs and walkers
The most significant difference between DME and adaptive equipment is medical use. Adaptive equipment helps patients with daily activities, but isn't intended for medical purposes like durable medical equipment.
The most common types of adaptive equipment are:
Dressing sticks
Elastic shoelaces
Leg straps
Button hooks
Sock aids
Handheld showers
Thermometers
Plate guards
Long straws
Hearing aids
Commodes
Grab bars
Canes
Scooters
Importance of Finding the Right DME
Hospice providers have a long list of job responsibilities, and finding the right DME for patients is a critical component of hospice care. Patients rely on their medical equipment for support, so hospices need easy access to track and order DME in one location to avoid disorganization.
With the right equipment, teams can spend more time focusing on their patients instead of spending countless hours trying to solve common DME pain points.
Critical Considerations of DME
Hospices must consider numerous challenges when it comes to DME solutions for their patients.
The primary consideration for hospices when choosing DME is the specific needs of their patients. Each patient will require different equipment depending on their medical condition and level of care needed.
Patient safety is paramount; hospices must ensure their DME is safe and in good working order. They must follow manufacturer recommendations for maintaining, repairing, and replacing durable medical equipment to ensure patient safety above all else.
Hospices must consider insurance coverage as they select DME for their patients. Many insurance policies have specific coverage limitations or requirements, and hospices must check that the equipment they provide is covered by insurance.
When selecting equipment, it's crucial to consider costs. Some equipment tends to be very expensive, so hospices have to balance patient needs with cost considerations to ensure they provide the best possible care while being financially responsible.
Some DME isn't immediately available, so it's important for hospice team members to take that into consideration when selecting patient equipment. To ensure continuous patient care, they must also verify that equipment is available for recurring orders.
Hospices have to comply with all DME-related regulations, including patient privacy and safety. They must also ensure staff members are adequately trained on properly using and maintaining all equipment.
Partnering With a DME Manager
Finding a DME management partner is crucial in streamlining hospice operations and ensuring quality patient care. A DME manager can help hospices find the right equipment for patients, provide support for teams in the field, access better pricing, improve inventory management, and ensure hospices follow all regulatory compliance for their equipment.
They can also ensure timely and accurate delivery of DME equipment, reducing the burden on hospice providers. As a result, team members can focus more time and effort on their patients, which inevitably improves outcomes.
Hospice DME is essential in providing quality end-of-life care. Understanding the many components of managing DME equipment is integral to elevated medical treatment. Partnering with a DME manager is a great way to benefit from better support for teams in the field, focus more time on patient care, and drive business growth.
Are you wondering how a DME management partner could help your hospice save time and money? Reach out to our support team to learn how Qualis can help.
‍
Get Awesome Content Delivered Straight to Your Inbox!
Posts by topic