How One Hospice Went from Processing 500 Invoices a Month for DME to Only 1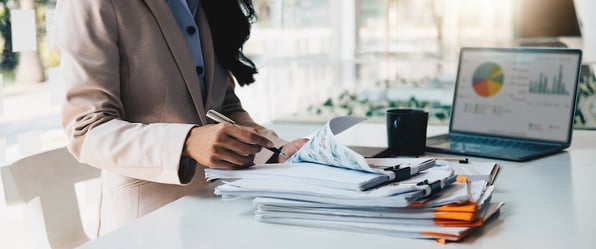 How many invoices does your hospice process every month? Anyone working in the hospice industry for any time will tell you about the excessive and sometimes strenuous invoicing process. The rise in medical advancements has forced our industry to require more services and products to provide our patients with the best care possible. Unfortunately, as the need for more products and services grows, so does the paper trail that follows.
No matter where you go in the healthcare industry, there will always be documentation, especially regarding billing. It's more important now than ever to have systems in place to catch all the invoices you send and receive to help your organization run more smoothly.
The Traditional Method
Since the modernization of healthcare, bookkeeping has played a critical role in ensuring hospice stays efficient and organized. Organization is a critical component of any business, especially hospices. When dealing with people's lives, you must have invoicing, patient charts and DME clearly documented and easily accessible. Hospice invoicing requires acute attention to detail since so many DME orders are moving in and out simultaneously.
Traditionally, hospice teams will collect and send paper invoices and carefully record them by hand. Though time-tested, these methods leave a lot of room for mistakes. When trying to correct a mistake, following the paper trail back to where the error occurred is exceptionally time-consuming and stressful.
Why This Isn't Sustainable
Hospice teams are forced to juggle several responsibilities at one time every shift. On top of ensuring timely and accurate delivery of DME, managing all of the invoices for each order is exceptionally daunting. Everyone knows it's critical to stay on top of accounting and bookkeeping tasks; otherwise, you risk running behind on documentation and payments. The last thing a hospice need is to pay outrageous late fees and build a mountain of debt because an invoice went undocumented.
Additionally, the time it takes to process, document, and make payments by their due dates is lofty. DME ordering is non-stop, which means you need a solution that is quick to integrate and easy to use for everyone on the team.
How One Hospice Consolidated Their Invoicing System
"Through advanced technology and leveraged purchasing, Qualis saves our agencies over $300,000 a year. Before Qualis, we had almost 500 invoices a month coming in. Now...ONLY one invoice a month, and I only have to write one check!"
B. Turner, Controller
Intelligent DME solutions are the key to condensing all of your invoices into one monthly payment!
Benefits From Processing Only One Invoice
Save Time - Going back and forth between manually processing, paying, and filing invoices every month eats up excessive amounts of time. When you only have one invoice to worry about instead of dozens each week, you'll free up drastic cuts of time that your team can use for other higher-priority tasks.
Save Money - Give your team the advantage of simultaneously making all your monthly invoice payments. This will ensure you don't miss an invoice and pay unnecessary late fees that tend to stack quickly.
Easier On Team - Your team will be thankful when they don't have to track the excessive amount of invoices each month carefully. Taking as much extra weight off your team's shoulders will allow them to focus more on the core competencies of their roles. In addition to having more time in the day, they'll also be happier knowing their leadership team is focusing on trying to make their days easier.
Better Accountability - In today's modern healthcare industry, it's way too easy to get mixed up with all the intricate innovations. Sometimes we need to simplify our processes to yield the most significant results. What's quicker and easier, processing one or a hundred invoices?
Qualis Provides All-in-One DME Solutions
Improving your DME processes and invoicing starts with integrating a solution that provides everything you need in one. Qualis is a DME management solution for hospices that want to streamline the overall efficiencies in their organization.
Integrating Qualis into your hospice will give you the much-needed help you need when it comes to simplifying complex tasks into manageable, consolidated steps. Contact a team member if you're interested in learning about the many other features Qualis can offer your DME process and get you on a path to being more efficient every day.
Get Awesome Content Delivered Straight to Your Inbox!
Posts by topic