Hospice Care DME vs. Home Health DME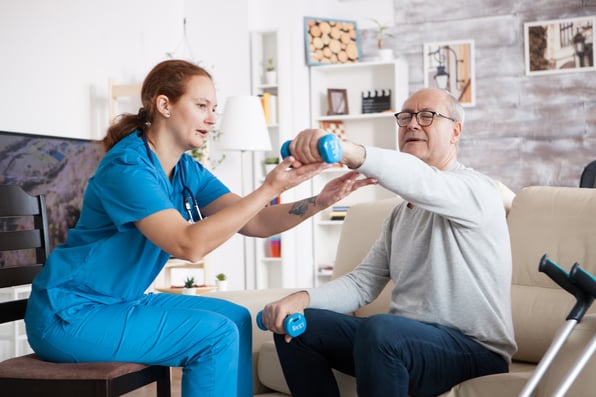 At the end of the day, every health organization has the same mission: to provide exceptional care to each one of their patients. Patients who enter hospice or home health care are often in need of help when it comes to sustaining a high quality of life that they wouldn't be able to achieve independently.
Similarities Between Hospice and Home Health
Both types of care:
Can be provided wherever the patient calls home
Must be provided due to a doctor's order based on eligibility
Are covered by Medicare, Medicaid, the Veterans Administration, and many private insurance companies
Assist with daily living activities like bathing and grooming
Are less expensive than hospital or facility care
Can continue as long as eligibility is met
Defining Home Health Care
Home health and hospice are two routes for in-home healthcare but each one provides a very unique and specific type of care for their patients. A few of the key differences between home health and hospice care include: the purpose of care, types of amenities/services needed, frequency, and the length of care.
Home health care aids in the recovery from illness or injury. It also helps patients learn how to manage chronic health conditions. Home health is specifically designed to provide care for patients who have an occasional skilled-nursing need, such as: wound care, physical therapy, or continuous occupational therapy.
Defining Hospice Care and DME
On the other hand, hospice care provides pain and symptom management for patients with a terminal condition who have a life expectancy of less than six months. Hospice can be provided anywhere a patient resides and is covered by Medicare and some private insurances.
Hospice care also includesDME and prescriptions that are related to the patient's condition. Hospice care keeps the patient as comfortable as possible and educates the family on how to extend emotional and spiritual support.
Many hospice patients need assistance from medical equipment to treat or address a disability or condition they're currently treating. The equipment used in hospices is referred to specifically as Durable Medical Equipment, or DME.
Defining DME
The industry of hospice care utilizes many different types of medical equipment to improve living conditions and comfort levels throughout the patient's stay. Nonetheless, not all equipment is created for the same purpose, and durable medical equipment is specific to hospice patients.
These pieces of equipment must meet specific standards based on the intended use to be classified as durable medical equipment.
Here are a few criteria that DME typically adheres to.
They can withstand repeated use since patients rely on them to be used daily, if not around the clock.
Patients must use the equipment strictly for medical purposes.
The equipment must be used in the patient's home or living space.
They must have a general life expectancy of at least three years.
Ensuring your hospice's DME operations are streamlined and fully operating at their maximum potential is critical for successful patient care. Often throughout hospice care, the patient may require different DME or recurring orders that medical providers need to order.
Getting the right equipment to the right patient promptly is one of the most important factors in providing exceptional care.
Get Awesome Content Delivered Straight to Your Inbox!
Posts by topic