DME Management Partners: The Key to Hospice Success in 2023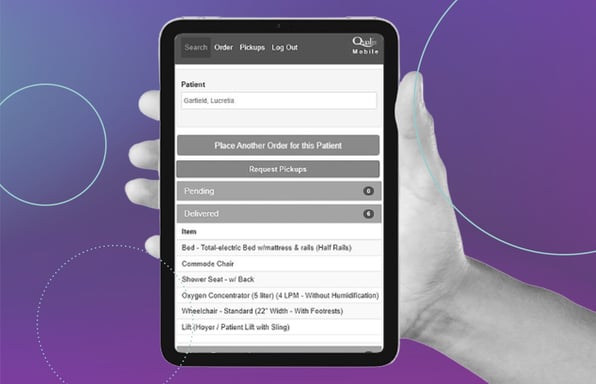 As the healthcare industry continues to grow and evolve, hospice organizations are faced with new and unique challenges to provide the best possible level of care for patients and their families. One critical aspect of a hospice's success is the management of durable medical equipment, or DME. Today's landscape is rapidly changing, and hospice organizations need to partner with DME management partners to stay ahead of the game and ensure prolonged success.
DME management companies, or partners, utilize online ordering solutions that seamlessly interface with a hospice organization's EMR software. A platform like this, combined with managed services that help control costs and save time, allows hospice staff to use a single ordering system that streamlines their workflows and modernizes processes.
Here are a few reasons why partnering with a DME management solution like Qualis is critical for hospice success in 2023:
‍
Expertise and Knowledge in DME Management: DME management partners have specialized knowledge and, oftentimes, decades of experience in managing DME for hospice organizations. They understand the unique needs of hospice patients, including the necessary equipment and supplies they need, and most importantly, they know how to effectively manage the ordering and delivery processes.
Increased Efficiency: Working with a DME management partner streamlines your DME ordering process, reducing the time and resources needed for delivery and management of DME. Qualis' ordering platform uses intelligent technology to offer hospices a vast network of vendors while receiving a single monthly invoice from Qualis. In addition, we have a dedicated team to jump in when any service issues arise and most importantly, we help prevent them. Our technology takes the guess work out of DME and combined with our proactive services, frees up your staff's time to focus on patient care and higher-value tasks.
Cost Control: Through our national and local relationships with DME vendors, Qualis is able to negotiate better pricing along with a greater network of options, therefore providing hospice organizations with increased operational efficiencies and cost control opportunities. If you have a preferred vendor you're currently working with, Qualis can manage the relationship and confirm you're getting the best value for your hospice.
Access to Wider Range of DME: DME management partners like Qualis have access to a vast network of vendors, thus providing hospices with a comprehensive and inclusive selection of equipment and supplies to choose from to meet each specific patient's needs and improve overall quality of life.
‍
As a pioneer in the DME management space, Qualis has been successfully serving hospice clients since 2006. With over 1 million patients in 40 states across the United States, Qualis has perfected the formula of prioritizing a tandem relationship among us, the hospice organizations, and the DME vendors. This unique process has been proven to continually improve the quality of patient care while controlling DME costs.
Here at Qualis, we win with our people. Our relationships are based on collaboration and mutual respect, making us a true DME management partner. Many DME management companies use ordering platforms and interface with EMRs, but Qualis also provides evidence-based clinical utilization and training, true vendor choice, and a world-class 24/7 customer service team.
At the end of the day, transactional efficiencies aren't going to move the needle and ensure prolonged hospice success, it's about forming a true partnership to improve quality of patient care. Are you ready to start optimizing your hospice's DME workflow?
Get Awesome Content Delivered Straight to Your Inbox!
Posts by topic