Case Study - Cedar Valley Hospice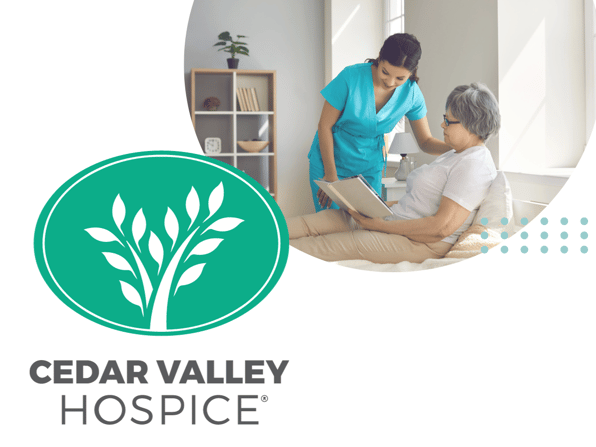 How Cedar Valley Hospice Drives Patient Satisfaction & Stabilizes Rising DME Costs With Qualis
Cedar Valley Hospice, a prominent Iowa-based hospice organization with five locations, has been using Qualis as their DME Manager and DME software solution since 2018. Cedar Valley has stayed with Qualis for multiple reasons, the most important being exceptional customer service and an emphasis on patient care.
Problems Cedar Valley Hospice Wanted to Solve:
Contract management
Streamlining of ordering and billing
Tracking usage of Equipment
Educating staff on appropriate use when necessary
Managing pricing
Reducing clinician time spent on DME issues
An All-in Management Solution
According to Michaela Vandersee, Executive Director, the company started using Qualis in 2018 after they started experiencing issues with their previous DME vendors. They had never used a DME Manager in the past, and were excited to form a partnership with Qualis to handle all things DME-related.
She stated, "Our experience with Qualis has been phenomenal. We have felt all along that they are not just another vendor - they are a valuable partner and they are motivated to help us succeed for our patients and families."

Vandersee notes that Qualis fosters a true partnership with clients, and she appreciates that her account team is dedicated to making sure their team is focused on high-value tasks, instead of chasing after vendors and trying to solve DME challenges.

She especially appreciates that her account manager answers her calls when they have a DME issue and also takes proactive efforts to prevent future issues from occurring.

"What is most important to patients and families regarding DME? Getting the equipment they need timely and having it picked it as soon as possible after the death of their loved one. We know that our partnership with Qualis has helped us to obtain 100% satisfaction in both quality measures," Vandersee adds.
Detailed Reporting To Control Costs and Manage Utilization
Along with the customer support team's experience and professionalism, Vandersee appreciates the extensive reporting tools the software solution, DME+, offers. She notes that her team has been able to use these reports to keep their utilization rates in check. The reporting feature allows the team to see how much of each item is being utilized on any given day.
This visibility, along with the Quarterly Business Reviews she has with her dedicated account manager, has provided great insight on how to order the right equipment at the right time.
Vandersee mentions, "Our partnership with Qualis has helped us to both reduce and stabilize our costs, decrease the administrative time spent on managing contracts and billing, and reduced the required time it takes our staff to manage DME in the patients home."
Save Time, Control Costs, and Simplify DME Workflows
With Qualis, Cedar Valley Hospice is saving an average of 75 hours a week on handling DME issues and about $150,000 a year in administrative costs, utilization rates, and staffing expenses. To dive a little deeper, the Cedar Valley team is spending much less time each week on populating patient data from their EMR, communicating with vendors regarding pick-ups and drop-offs, & chasing down DME issues.
Essentially, Qualis has helped them take the guesswork out of DME and manages every aspect of DME administration. Cedar Valley receives up-front, transparent pricing, and their CAHPS scores have improved, demonstrating the increased patient and family satisfaction.
Through Qualis, your team will save vital time finding, ordering, and tracking DME for their patients and other unique benefits. Instead of relying on one vendor to provide your hospice with DME, Qualis opens the door to over 900 providers across the country. Additionally, Qualis helps make invoicing tracking manageable for everyone involved. Ready to chat?
Get Awesome Content Delivered Straight to Your Inbox!
Posts by topic