3 ways Qualis helps hospices easily track and order DME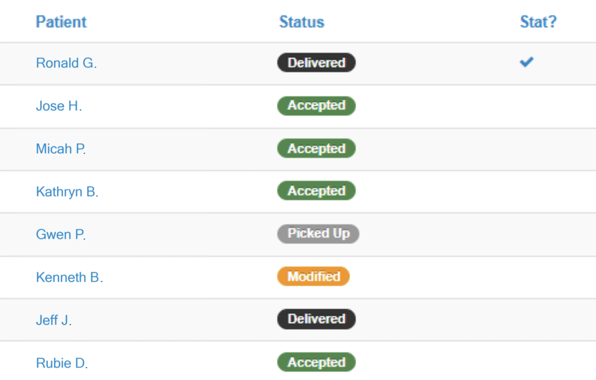 As healthcare operations continue to evolve, hospices are increasingly relying on software and cutting-edge technology to deliver advanced patient care and manage DME workflow. Hospice professionals depend on technologies like Qualis' DME management software to ensure that all moving parts are taken care of and efficiently managed.
A hospice environment is dynamic and fast-paced, and because there are so many moving parts, it's essential to look to technology to manage those daily operations and assist with logistics. The most noteworthy advancements in healthcare technology include DME management software, and Qualis is the first and only DME software that is vendor-agnostic and streamlined to make your clinicians' lives easier.
It's simple: your clinician logs into our portal, they're able to search through formulary and non-formulary items to easily order DME for their patients, and in one click, the DME information is routed to the vendor. If any problem arises, the team at Qualis handles everything on the back end so you can focus on what matters most: exceptional patient care.
Here are a few ways in which our software helps hospices easily track and order DME:
Quick Order:
Our software allows your hospice staff to order DME in a matter of seconds, not minutes. Patient information is pulled from your EMR, you select the DME vendor and necessary items from a list of primary and secondary options based on your unique counties and locations, and then you hit "submit." Our system then notifies the DME vendor in real time. It's as simple as that. In an industry that moves a mile a minute, it's important to streamline processes like DME so your staff can concentrate on their most pressing matters.
Track Status:
Our picture view and status tracking capabilities give your team real-time updates on where your equipment. You can track the status of your order (created, submitted, received, modified, accepted, delivered, picked up)from the submission to the DME vendor to the delivery to the patient. Our portal includes descriptions of DME items and pictures for your reference, ensuring you're ordering the right equipment at the right time. Our useful and configurable dashboard helps your team track ordering efficiencies, view item utilization rates, and review cost drivers.
Streamlined Ordering and Invoice Process:
Integrating Qualis into your hospice streamlines your ordering process and gives you one detailed invoice every month, versus having to manage multiple. Instead of bouncing around from different charts, screens, and vendors, hospice teams have everything they need in one location, regardless of how many vendors they're using or items they're ordering.
When it comes to managing your hospice's DME management processes, simple is key. One small DME error can significantly interrupt your staff's day to day operations, which takes away from patient care. Finding simple solutions to manage those everyday DME tasks helps you save time and improve your processes, allowing for the drastic increase in the quality of patient care. Instead of having to spend your time behind a computer screen tracking your orders and dealing with multiple vendors, our solution gives your team time back in their day so they can spend more time giving hands-on care to their patients.
Qualis' exceptional customer service coupled with our leading management software seamlessly improves yourDME process while reducing errors and controlling costs. Contact us today to discuss how we can make a noticeable difference in your DME management process.
Get Awesome Content Delivered Straight to Your Inbox!
Posts by topic